GIGABYTE VGA AMD Radeon RX 5500 XT GAMING OC 8G, 8GB GDDR6, 1xHDMI, 3xDP
Přidat do oblíbených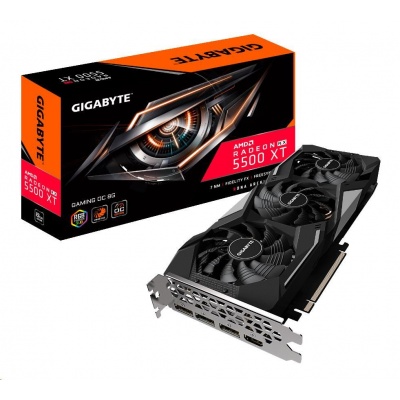 Popis
Parametry
Hlídací pes
Radeon RX 5500 XT GAMING OC 8G
Features


Powered by AMD Radeon™ RX 5500 XT


Integrated with 8GB GDDR6 128-bit memory interface


WINDFORCE 3X Cooling System with alternate spinning fans


RGB Fusion 2.0 – 16.7M colors synchronize with other AORUS devices


Protection Back Plate


PCI-Express 4.0 Support


Core Clock


Boost Clock: up to 1845 MHz


Game Clock*: 1737 MHz (Reference card is 1717 MHz


Base Clock: 1685 MHz (Reference card is 1607 MHz)
*: "Game Clock" is the expected GPU clock when running typical gaming applications, set to typical TGP (Total Graphics Power). Actual individual game clock results may vary


WINDFORCE 3X COOLING SYSTEM
The WINDFORCE 3X cooling system features 3x 80mm unique blade fans, alternate spinning fan, 2 composite copper heat pipes, heat-pipe direct touch GPU and 3D active fan functionality, together delivering an effective heat dissipation capacity for higher performance at lower temperatures.
ALTERNATE SPINNING
The GIGABYTE "Alternate Spinning" is the only solution that can solve the turbulent airflow of three fans. The biggest problem with the three fans is turbulence. Since the fans rotate in the same direction, the airflow direction is opposite between the fans, which will cause turbulent airflow and reduce heat dissipation efficiency. GIGABYTE turns the middle fan in the opposite direction, so that the airflow direction between the two fans is the same, reducing the turbulence and enhancing the airflow pressure.
UNIQUE BLADE FAN
The airflow is spilt by the triangular fan edge, and guided smoothly through the 3D stripe curve on the fan surface, effectively enhancing the airflow.
3D ACTIVE FAN
The 3D Active Fan provides semi-passive cooling, and the fans will remain off when the GPU is in a low load or low power game. It allows gamers to enjoy gameplay in complete silence when the system is running light or idle.
HEAT PIPEs DIRECT TOUCH GPU
The shape of the pure copper heat pipes maximizes the direct contact area with the GPU, enhancing heat transfer. The heat pipes also cover the VRAM through a large metal plate contact to ensure proper cooling.
COMPOSITE HEAT-PIPE
The composite heat-pipe combines thermal conductivity and phase transition to efficiently manage the heat transfer between two solid interfaces which increase cooling capacity.
RGB Lighting
With 16.7M customizable color options and numerous lighting effects, you can choose lighting effects or synchronize with other AORUS devices by RGB Fusion 2.0 software.
PROTECTION BACK PLATE
The back plate not only provides an aesthetical shape, but also enhances the structure of the graphics card to provide complete protection.
EXTREME DURABILITY AND OVERCLOCKING
The graphics card uses the better power phases design to allow the MOSFET to operate at lower temperature, and over-temperature protection design and load balancing for each MOSFET, plus the Ultra Durable certified chokes and capacitors, to provide excellent performance and longer system life.
FRIENDLY PCB DESIGN
Fully automated production process ensures top quality of the circuit boards and eliminates sharp protrusions of the solder connectors seen on the conventional PCB surface. This friendly design prevents your hands from getting cut or inadvertently damaging components when making your build.
PCI-E 4.0 SUPPORT
GIGABYTE Radeon RX 5700 XT GAMING OC supports PCI-Express 4.0, with a throughput of 16 GT/s and enables two times the bandwidth compared to PCI Express 3.0. Get ready for the next generation of PC gaming.
AORUS ENGINE
AORUS Engine allows you to find a perfect balance among performance, temperature, and acoustic by adjusting the clock speed, voltage, fan performance and power target in real-time according to your game's requirements.
RGB FUSION 2.0 - SYNC WITH ONE CLICK
There are various modes you can select from and easily achieve RGB synchronization with just one single click.
RGB FUSION 2.0 - INDIVIDUAL LIGHTING CONTROL
An easy way to customize the colors and the lighting effects individually just the way you want.
TECHNICAL SPECIFICATIONS




Graphics Processing
GeForce® RX 5500 XT



Core Clock
Boost Clock: up to 1845 MHz
Game Clock*: 1737 MHz (Reference card is 1717 MHz)
Base Clock: 1685 MHz (Reference card is 1607 MHz)



Stream Processors
1408



Memory Clock
14 000 MHz



Memory Size
8 GB



Memory Type
512 M x32 GDDR6



Memory Bus
128bit



Memory Bandwidth
224 GB/s



Card Interface
PCI Express 4.0 x16



Digital Max Resolution
7680x4320 @60Hz



Multi-view
4



PCB Size
220 x 117 mm



PCB Form
ATX 2 slot



DirectX
12



Open GL
4.6



Recommended PSU
450W



Power Connectors
8-pin



Fan/Heat Sink
WINDFORCE 3X



Tools
AORUS ENGINE



Output
3x DisplayPort (Gold Plated)
1x HDMI (Gold Plated)



Card Size (H x L x W)
40 x 281 x 115 mm



Card Weight
700 g



Accessories
Quick quide



Warranty
3 years



.
Typ sběrnice grafické karty:
PCIe
Výrobce procesoru GPU:
AMD
Chlazení grafické karty:
Aktivní
Grafický čip:
AMD RX 5500 XT
Aktuální cena produktu je
6048
Kč  s dph