ARCTIC Freezer 50 TR Dual Tower chladič CPU s A-RGB (pro AMD Threadripper)
Přidat do oblíbených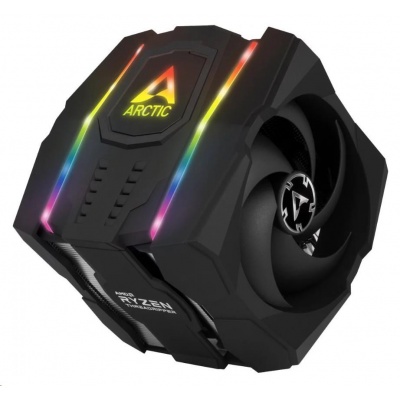 Popis
Parametry
Hlídací pes
Dual Tower CPU Cooler for AMD Ryzen™ Threadripper™ with A-RGB
Features


Dual-Tower Design with 8 Heatpipes for Maximum Performance


100 % Die Coverage


Addressable RGB for Fully Customisable Illumination


Two Pressure-optimised Fans


Wide RPM Range for Highest Performance and Low Noise Level


Easy Mounting Solution


MX-4 Thermal Paste Included


The ARCTIC Freezer 50 TR is a dual-tower CPU cooler with two P-series fans in push-pull-configuration. It is an extremely powerful cooling solution for AMD Ryzen Threadripper CPU, capable of efficiently and quietly cooling CPUs of 32 cores and beyond. The Freezer 50 TR is also ARCTIC's first CPU cooler equipped with fully addressable RGB, grants you totally customisable illumination and an individual colour look to the PC.
A-RGB for Full Colour Control
The 13 A-RGB LEDs installed in the Freezer 50 TR are autonomously controllable from each other. We are compatible with the common A-RGB standards of leading motherboard manufacturers for the simplest possible use. The Freezer 50 TR can therefore be fully illuminated directly via the A-RGB mainboard connection or via an external controller and synchronized with the lighting of other hardware.
Dual Tower Design and 8 Heatpipes
The massive, asymmetrical twin-tower CPU cooler offers more cooling surface and, together with its eight U-shaped Direct-Touch Heatpipes, ensures better heat distribution and faster heat dissipation.
This enables the highest possible cooling performance and makes the Freezer 50 TR one of the strongest air cooler for AMD's Ryzen Threadripper.
Full Fledged A-RGB Controller (Optional*)
ARCTIC's own A-RGB Controller lets you enjoy exciting RGB lighting, even if your motherboard has no A-RGB connector. The controller can be freely placed in the case and with the
included remote control you then have full control over the effect and colour design.
* The A-RGB controller is optional. If you want to purchase the Freezer 50 TR with A-RGB controller, make sure you choose the version "Freezer 50 TR incl. A-RGB Controller". eD kód: 523104
Ideal Airflow
The Freezer 50 TR features two P-fans working in push-pull-configuration.
Combining a 120 mm fan and a 140 mm leads to an increase in airflow for improved cooling, while keeping the noise level and the installation height down.
P-fan for Increased Performance
The Freezer 50 TR benefits of all advantages of our P-fans.
• High static pressure for increased cooling performance
• Broad RPM range
• Lower power consumption
• Less vibrations
• Extended life span
• High quality bearing
• PWM for synchronous fan/pump control
Better Cooling – Better Performance
No thermal throttling on your CPU - even a AMD Ryzen Threadripper 2990WX with very high clock speeds is cooled effciently. You reach the maximum FPS with minimal noise levels for the smoothest possible gaming experience.
High Performance for High-End CPU
The contact surface of the Freezer 50 TR heat pipes does not cover the full heatspreader, but and more importantly, it is right there where the processor die is and covers even the largest versions completely.
Easy Installation & Secure Hold
With our new mounting solution, installing the the Freezer 50 TR is quick and easy.
RAM Clearance
Since the Freezer 50 TR is built for maximum performance, including a massive heatsink, it does not have limitless RAM Clearance. Recommended is a maximum memory module height of 37.5 mm. This stipulation is mainly due to the tip on the underside of the Freezer 50 TR, which means modules that exceed this height could still be compatible if they have V-shaped or centrally recessed heatsinks.
MX-4 Thermal Paste included
The high-performance MX-4 thermal compound is included and ensures the best cooling results.
TECHNICAL SPECIFICATIONS




GENERAL



Heat Pipe
Direct Touch diam. 6 mm x 8



Heatsink
Aluminium Fins x 104
Thickness: 0.4 mm



Thermal Compound
MX-4 (0.8 g)



Dimensions (L x W x H)
147.8 x 149.5 x 165 m



Weight
1242 g



Compatibility
AMD® sTR4



RAM Clearance
37.5 mm






RGB



Connector
D/V/G digital RGB 4-pin connector



Current/Voltage
13 A-RGB LEDs: 0.5 A/5 V






FANS



Fans
1 x 120 mm, 200–1800 RPM
1 x 140 mm, 200–1700 RPM
(Controlled by PWM)



Current/Voltage
120 mm: 0.09 A/12 V
140 mm: 0.13 A/12 V



Bearings
Fluid Dynamic Bearing



Noise Level
0.4 Sone @ Max. RPM



Connector
120 mm fan: 4-pin Connector
140 mm fan: 4-pin Connector + 4-pin Socket









.
Využití chladiče:
Na procesory
Aktuální cena produktu je
1938
Kč  s dph